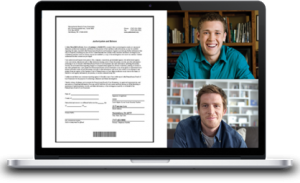 Most types of documents will soon be witnessed and notarized electronically in Florida through a remote online notarization (RON) service provider. Online notarization will be conducted through audio-video communication technology. The notary must retain a copy of the audio-video communication.
The notary can also supervise the witnessing of documents online in a similar manner to notarizing the signature of the principal signor. The remote witnesses need not be in the physical presence of the signor or notary. A remote witness must be a resident of and physically located within the U.S. or a territory of the U.S. If the principal signor is a "vulnerable adult" as defined in section 415.102 F.S. the witnesses must be in the presence of the principal signor. If a vulnerable adult is not in the presence of the principal signor, then the witnessing is still invalid. Remote witnessing requires that the witness hear the signer acknowledging the signer's signature.
An electronic will can be admitted to probate if filed through the e-filing portal and is deemed to be an original of the electronic will. A paper copy of an electronic will which is certified by a notary public to be a true and correct copy can also be admitted to probate as an original. Self-proof affidavits for wills can be electronically witnessed and notarized, if the electronic record that contains the will is held by a qualified custodian at all times before being offered to probate. An electronic will or codicil is revoked by deleting or obliterating an electronic record, with the intent to revoke, as provided by clear and convincing evidence.
Note that "super" power of attorney documents still cannot be witnessed and notarized electronically.
Several technology companies are preparing to offer remote notarization services in Florida including: Notarize (www.notarize.com) ; DocVerify (www.docverify.com) ; NotaryCam (www.notarycam.com) ; Pavaso (https://pavaso.com) ; SIGNiX (www.signix.com) .
The future of notarizing and witnessing documents is coming to Florida January 1, 2020.